Last Updated on September 27, 2022 by Marian
I found this wonderful PLR resource for you! You can choose from many different PLR packages, and for start I have a special link for you that will give you 10 free credits! You can use the free credits and download whatever PLR package you want.
Just like I did recently… great guide on CBD, 24 pages, for free! 🙂 See the screenshot below what a great resource it is: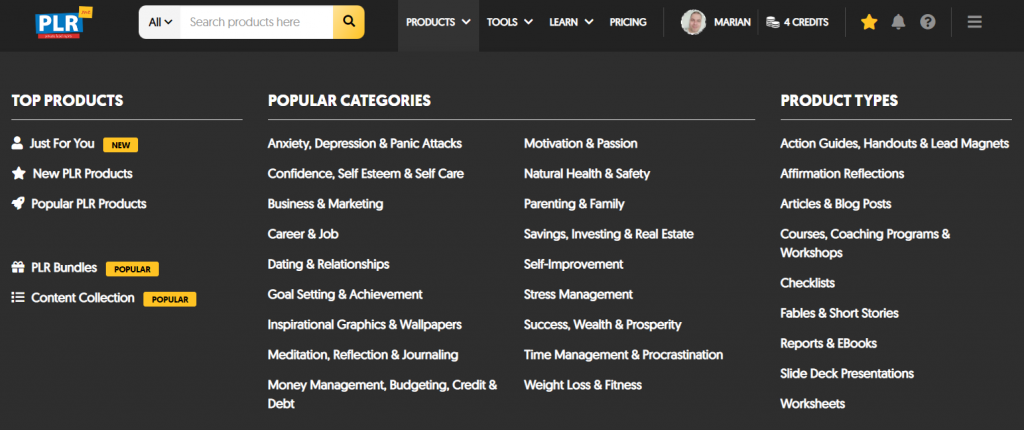 Anxiety, Depression & Panic Attacks PLR
Confidence, Self Esteem & Self Care PLR
Business & Marketing PLR
Career & Job PLR
Dating & Relationships PLR
Goal Setting & Achievement PLR
Inspirational Graphics & Wallpapers PLR
Meditation, Reflection & Journaling PLR
Money Managements, Budgeting, Credit & Debt PLR
Motivation & Passion PLR
Natural Health & Safety PLR
Parenting & Family PLR
Savings, Investing & Real Estate PLR
Self-Improvement PLR
Stress Management PLR
Success, Wealth & Prosperity PLR
Time Management & Procrastination PLR
Weight Loss & Fitness PLR
… and also:
Action Guides, Handouts & Lead Magnets
Affirmation Reflections
Articles & Blog Posts
Courses, Coaching Programs & Workshops
Checklists
Fables & Short Stories
Reports & eBooks
Slide Deck Presentations
Worksheets
Get your 10 free credits on PLR.me by clicking this link!