I've joined this great membership site The Elite Academy as Beta Tester:
By joining this site that's run by Dawud Islam you're going to get accesss to ALL Dawud's products, including OTOs, the traings, access to a private Facebook page and best of all – he'll promote your affiliate links to his products for 100% commissions for the Front End product!
Plus you'll receive a special welcome video message from Dawud, you'll also have a chance to ask Dawud and all other members your questions and you can co-launch a product with Dawud himself!
The private Facebook group for the Elite Academy members: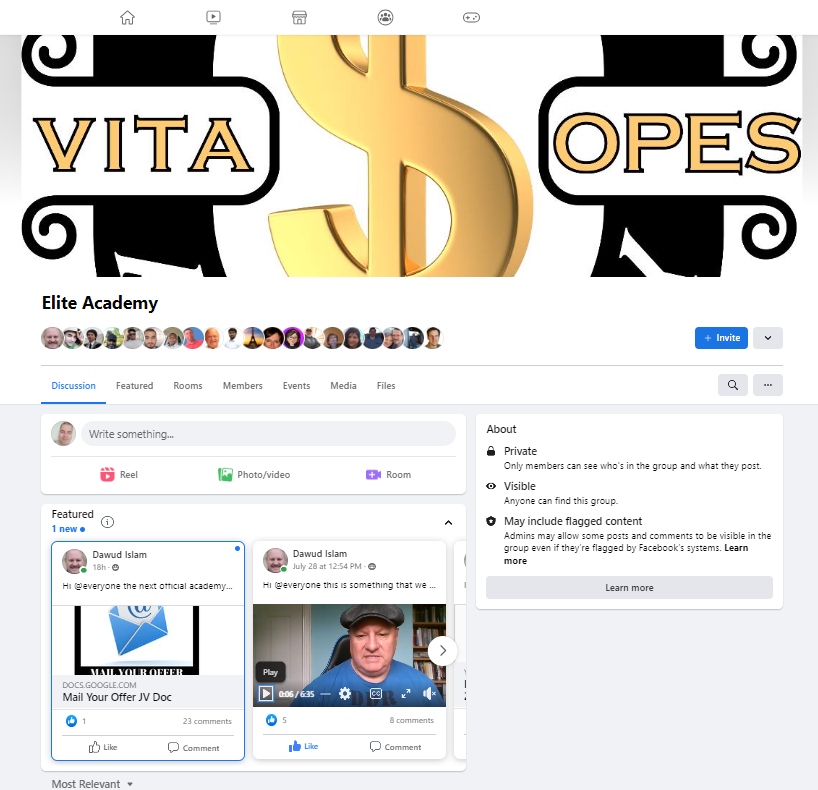 Here's the complete list of benefits when joing The Eliet Academy:
Launch a product with me – I absorb all the costs – you earn 25% of the profits
Full training in absolutely everything I know about earning online – no information held back
Learn the new method of launch jacking & why the commonly taught method no longer works
Full training in list building, traffic generation, email marketing & product launching
Full training in offline marketing, ecommerce and drop shipping
Guaranteed promotion of all my products – whatever your affiliate score
All my current and future products free of charge forever
100% commissions on all my previous sales funnels
100% commissions on front end of new launches during launch period
100% commissions on whole funnel of new launches after launch period ends
Advance notice of all new launches – you will be first to see it
Weekly live training and q & a with me every single week
More weekly live training with top coaches
Guarantee to promote the elite academy with 50% commission – exclusive to members
Exclusive facebook group with priority support – ask any question 24/7
Rotator spot for all my launches – earn passive commissions
Vip upgrades at all 25 of my elite tigers group sites with unlimited credits – worth thousands
Permanent banner ad for any offer at all 25 of my sites
Guaranteed promotion from me of any product you launch
New benefits to be added at the programme develops
strictly limited number of elite members – when quota full the doors will be closed
Specifically for this membership I used my second WarriorPlus account and here's my earnings from Dawud's promotion of my affiliate links:
This is especially great if you're a newbie on WarriorPlus – because vendors don't often approve affiliate link requests from newbies that have no sales records! So you're not only earning completely passive income from The Elite Academy but you build your trust and reputation on WarriorPlus as well!
You can see my sales score is 64 right now.
It's quite impressive right? Me basically only sending my affiliate link to Dawud. For me it's a profitable partnership! 
Remember, my commissioms will get even bigger as I continue sending my affiliate link for every new product Dawud launches!
If you'd like to check out The Elite Academy, please click here!